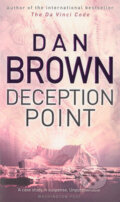 I'm going to do this one around the other way than usual, because the blurb is one of those ones that can potentially ruin the book if you plan to read it. I was recommended this book by my father-in-law, also an avid reader, and I am most glad he did.
Put aside the fact that Brown wrote an incredibly successful and controversial book, and think of this book only as a book. I will admit that while I enjoyed
The Da Vinci Code
, I certainly wouldn't have rated it as well as this one. So I went in probably expecting it to be not very good, until this tme actually I had gone so far as to
shun
the other Dan brown books, thinking he was simply cashing in on his success. Having read
Deception Point
however, i will seek out his other works, and I hope not to be disappointed.
Essentially while you could loosely say of
The Da Vinci Code
that its set in Paris, and deals a lot with religion, this book could not be further from that subject matter. I had thought for a while, as another of his books is called Angels & Demons, that he wrote primarily in the religious realm. I think now he writes books that while they are fiction, could be real.....
So, of
Deception Point,
you could loosely say that it is a book set in Washington DC, in the midst of a Presidential election and deals a lot with NASA and a touch of American Intelligence Agencies, plus some time spent in the Arctic. A compelling read, I found it to be one of those books that once you start, you can't put down again and while you're not reading all you want to do is be reading!!!!
Quite the thriller, if you think you might read it, don't read the below blurb....
4.5 / 5
I warned you.......
When a new NASA satellite detects evidence of an astonishingly rare object buried deep in the Arctic ice, the floundering space agency proclaims a much-needed victory....a victory that has profound implications for the U.S. space policy and the impending presidential election.
With the Oval Office in the balance, the President dispatches White House Intelligence analyst Rachel Sexton to the Arctic to verify the authenticity of the find. Accompanied by a team of experts, including the charasmatic Michael Tolland, Rachel discovers the unthinkable- evidence of scientific trickery-a bold deception that threatens to plunge the world into controversy.
But before Rachel can make her findings known, she realises, perhaps too late, that such knowledge puts her and Tolland in deadly jeopardy. Fleeing for their lives in an environment as desolate as it is lethal, they possess only one hope for survival:find out who is behind this masterful ploy. The truth, they will learn, is the most shocking deception of all....