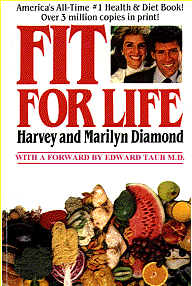 In a bit of a pickle at the moment. (lol pun)
The barista at my local work cafe has recommended a book to me which you may have noticed in the sidebar,

Fit For Life

. We were discussing eating habits one day after I asked if she would know how many calories are in one of her homemade muffins.
She then proceeded to tell me that she would lend me a book that had changed her life regarding her own eating habits. She doesn't really need to worry about her eating I should mention, she's training for a marathon so she can eat whatever she wants pretty much.
Anyway so she brought the book in, and I started reading it, except that I thought it was a bit hinky right away. The basic premise of the idea is that its not a fad diet, because "Diets don't Work" (give them credit, it was written in 1985) The cover of the one I have says
THE NATURAL BODY CYCLE, PERMANENT WEIGHT-LOSS PLAN THAT PROVES IT'S NOT WHAT YOU EAT, BUT WHEN AND HOW!!
It waffles on a bit about how its a way of eating for the rest of your life and then goes on to say you can only eat fruit before 12 noon and then mostly vegetables after. Hmm.....if it smells like a fad?
So I decided to Google it and find some more info, and found without any trouble a bunch of articles about how its all crap and its been
debunked by Nutritionists
and others in the field.. Eek!
So I'm not going to bother reading any more of it, but what do I tell my coffee friend now? How do I tell her the eating plan she revers so much is all hocus pocus?